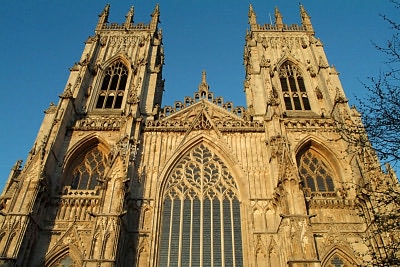 After a simple breakfast in the railway cafe (charmingly located in a sort of floating pavilion behind the station clock), we walk up the river, spotting houses we'd like to own in our dreams and enjoying the September sunshine.
Whether walking, mooching, lying on the grass or watching the world go by, I'm just so intensely comfortable with these best of friends.
S manages to deliver a couple of killer lines in the course of the day: "who'd have thought that out of those four parents, the one who owns the machine gun is only the third maddest?" and "Oh what's his name? You know, the guy who founded Stringfellow's nightclub?".
Sadly Cafe Concerto is suffering from its usual queues, so instead we find a National Trust coffee shop for a soup and sandwich lunch.
I'm a little sceptical about the proposed visit to the Railway Museum in the afternoon, but it's free and if you ignore the geeks found round every corner, there is a powerful beauty about the old steam engines on display. However, the winning attraction has to be the Poetry Karaoke.
Listening to the Auden poem with its beautifully evocative rhythms and watching the excerpt from the old GPO film is a treat in itself, but you can also play karaoke and record your own version. The words can be found
here
- go on have a little play at home, you know you want to ;-)
Late afternoon, we say our goodbyes and catch our trains back to our relevant home towns. Maybe the Transpennine Express that carries me back to Manchester lacks some of the romance of the age of steam, but you still can't deny that crossing the Pennines by rail and sitting back and letting the glorious scenery pass by, is still a fine, fine way to spend a sunny September afternoon.