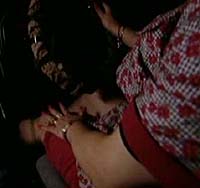 For many (lightweight skiver types – yes I am jealous), today was the first work day of the year. In my world however, it was a day marked by things not working.
In the usual early morning auto pilot I entered the bathroom turned on the shower feeding mixer-unit's hot tap fully and the cold tap slightly, and having busied myself for the obligatory 'combi-boilers run hot then cold then hot again and no one can explain why" minute, I stepped into the shower.
Bit chilly thought I and reached down and turned the cold tap down a squidge*.
No change.
I turn it a little more and still no change.
I turn it off.
Still no change.
I try to turn it back on and discover the tap is now jammed.
I turn off the hot tap and discover that despite both taps now being off, ice cold water continues to pour.
I suffer the indignities of a decidedly cool shower and spend the rest of the pre-commute morning running up and down stairs turning the stop-cock on and off every time I need to use water (after all
I did commit
to turning off the tap whilst brushing my teeth, but this is ridiculous).
I find the number for a local plumber and place the call. They seem very efficient and nice and we arrange for them to call tomorrow morning as I'm not in this evening. As we say our goodbyes, I ask "oh btw, what's your name?". The deep, slightly gruff voice replies "It's Lorraine. Lorraine the lady plumber". To be fair it's not the greatest mobile reception in the world and that may have distorted the voice, but I'm slightly expecting the plumbing equivalent of The League Of Gentlemen's mini-cab driver Barbara to appear on my doorstep tomorrow.
After lunch, I catch the train to London and realise I really need to think about the 'devotional' I'm supposed to be giving at the start of this evening's Greenbelt Management Group Meeting.
Needless to say such activities don't come naturally to yours truly and I'm rather crapping myself about.
I manage to pull something together and it seems to go ok – not terribly sure if people follow where my mind goes linking the Christmas story, Epiphany, Greenbelt's theme of Heaven in Ordinary and Sigur Ros's paean to jumping in puddles, but some of them are good enough to say nice things about it after, so it can't have been too terrible (or maybe it was and they have charitable over-compensating natures?). After all Hoppipolla is one of the most sublimely beautiful tracks of all time and plenty of compensation for having to sit through a few minutes of my waffling.
For once the meeting is finished in time for me to enjoy a quick post-meeting drink with the ever delightful Jude before heading off to catch a tube to Euston and the train home.
Unfortunately, I reach the Northern line platform at Bank just in time to catch the announcement that the north bound Northern line has just ceased moving due to some technical problem or other. Thankful that my cautious soul hadn't left it to the very last moment to leave the pub, I just have time to travel further west on the Central line and then pick up the Victoria line and arrive at Euston just in time to catch my train (that'll be the 'last' train) back to Manchester.
All is going well (usual very friendly, helpful staff, who I've got to know quite well on these late night journeys), until we get to Wilmslow. The interior lights go off and the train stalls.
Apparently, Network Rail have turned the overhead lines off. I mean I'm all for the energy conservation concept of turning things off overnight, but possibly best waiting until the lat train has passed through, no?
Twenty minutes later, power is restored thankfully and we potter on to Manchester.

* a squidge is the technical term for the distance that lies between "a tiny tad" and "half a gnat's nadger".