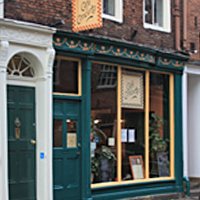 I really could do with a day in bed, but that's just not possible, so weighed down with piles and piles of tissues and flu meds, I struggle across to York for the Greenbelt Venue Management Support Team meeting.
It's a valuable day and we manage to draw up plans for the way forward as B moves on to pastures new.
At the end of the meeting we head to Cafe Concerto to enjoy their fine fare.
By eight I'm back on the train for Manchester and I'm touched by the kindness and sympathy of strangers - I clearly must look like shite.